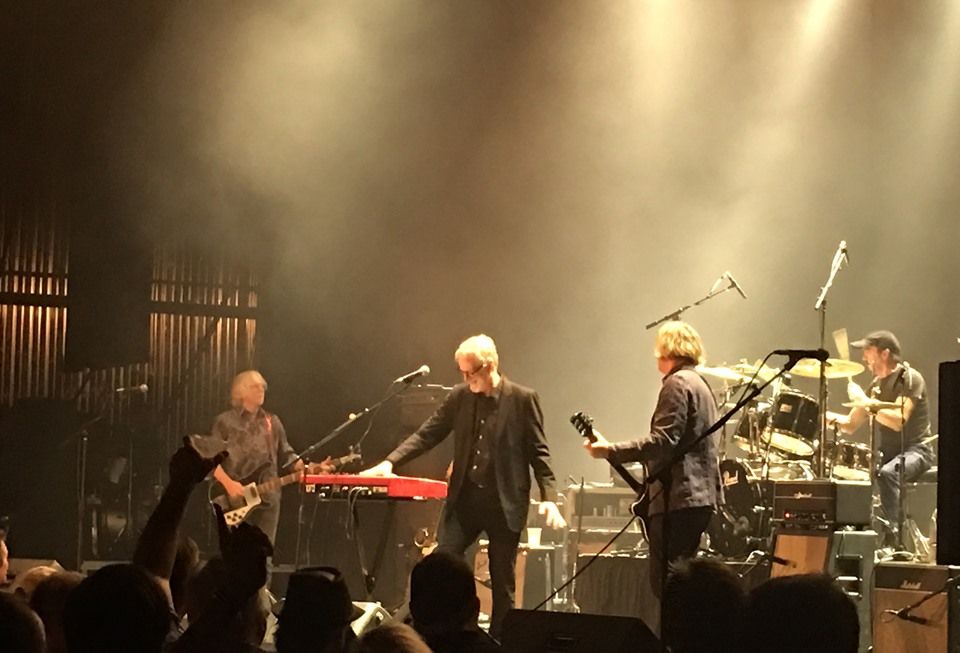 Last Friday night at the Fox Theatre in Atlanta was a fantastic experience. I'm not sure what the night started out to be — a Drive-By Truckers show, a benefit for restoring old movie theaters or exactly what — but my friend Kevn Kinney from Drivin N Cryin stepped in and decided to curate a sort of variety show of Georgia music, and then the thing started snowballing. Kevn originally asked me to play a couple songs with Drivin N Cryin but called back a few days later and said, "You've been stolen from me!" Peter Buck, Mike Mills and Bill Berry of REM were going to play a short set (shhhh!) and wanted me to sing "Money Changes Everything" with them. Of course I was up for that. But I said to Kevn, "Can I still play with you?" 
"Sure," he said. "We'll do 'Straight to Hell' and maybe another." 
So Thursday I drove over to Athens, Georgia, for a rehearsal with the R.E.M. guys. They had done their homework, even calling me the day before to find out if they should study the single or the album version. The single, of course. We made a few arrangement tweaks, but they pretty much had the song down. By the time I left we had it cold.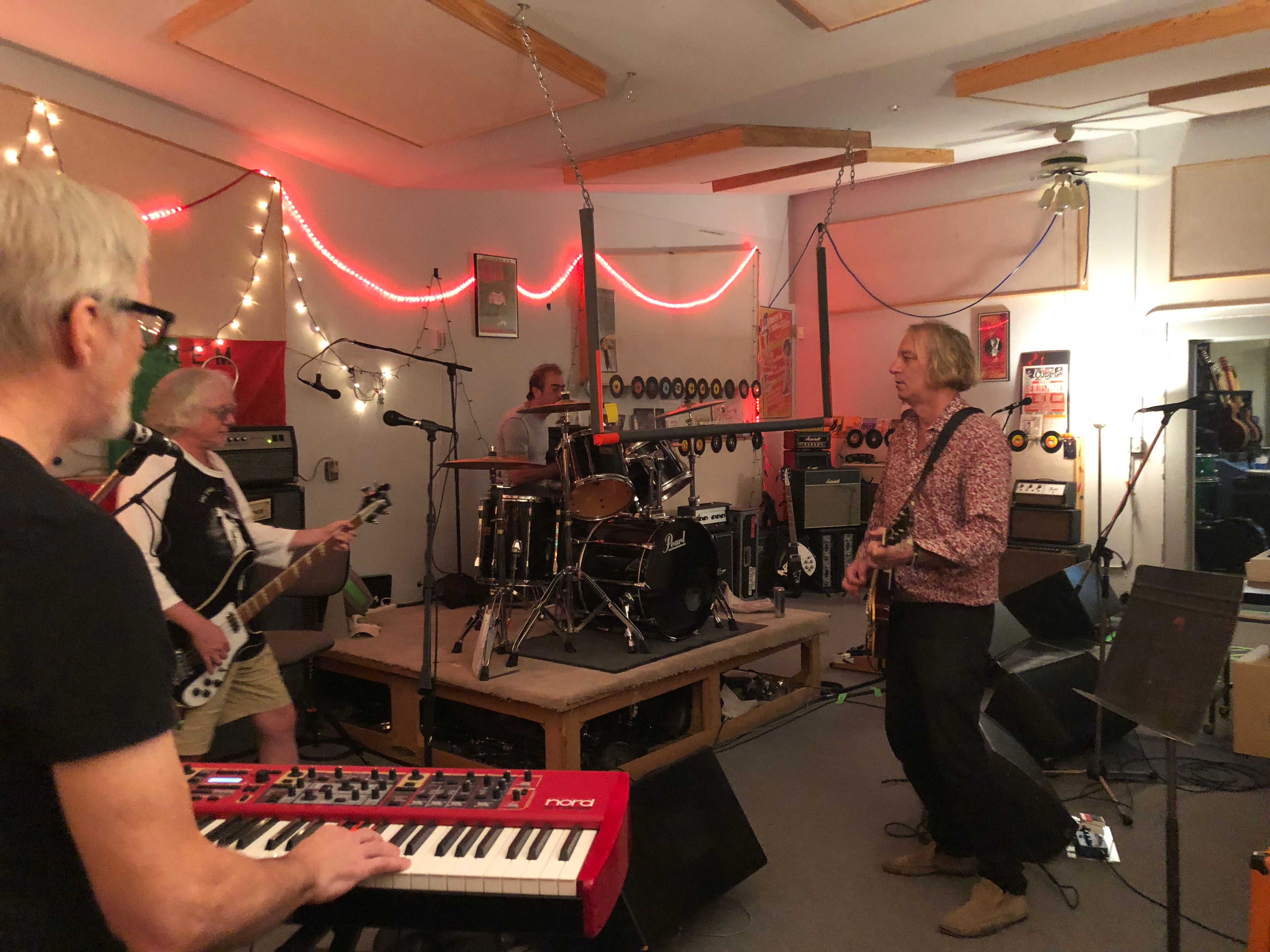 I got down to the Fox early Friday afternoon, because I had sound checks with two bands. The day just kept getting better and better. Every few minutes another old friend would walk in, and we'd both say, "I didn't know you were on this show!" Rick Richards from the Georgia Satellites, Vanessa Briscoe Hay from Pylon, Michelle Malone and my old buddy Phil Skipper, playing bass with Michelle. I was introduced to Patterson Hood of the Drive-By Truckers, who invited me to join in the gang chorus finale at the end of their set. It was good to see several friends in the crew too. The whole day felt like a homecoming. 
The show was a blast. Everyone had done a serious job of keeping a lid on the R.E.M. factor, so when the lights came up for a set by "Kevn Kinney and Friends" the audience did a collective double take and then went crazy. Peter Buck told me they used to sell out the Fox for five nights in a row. Kevn sang "Fall on Me" and a duet with Mike on "The One I Love", as Rick Richards and I watched from the wings, stretching, pacing and cracking jokes. Rick went on and sang "Battleship Chains". Vanessa followed with "Crazy". Then it was my turn. It was a tremendous experience. The band closed with "Texarkana". 
How to follow that? Well, I went out front and watched Michelle Malone not only do it but kill it. 
Then Drivin and Cryin came on. This time Peter Buck and I sat on a big road case in the wings, waiting for the last two songs. Rick and Michelle joined us on the closer, "Straight to Hell", with the whole audience singing the chorus. 
Drive-By Truckers played a full ninety-minute set. I watched about thirty, then went backstage to hang with the others. The party was in the "Kevn Kinney and Friends" dressing room. When I say party it was mostly sitting around with glasses of wine or whiskey, joking and telling stories. There was a good, comfortable feeling in the room, and a lot of laughter.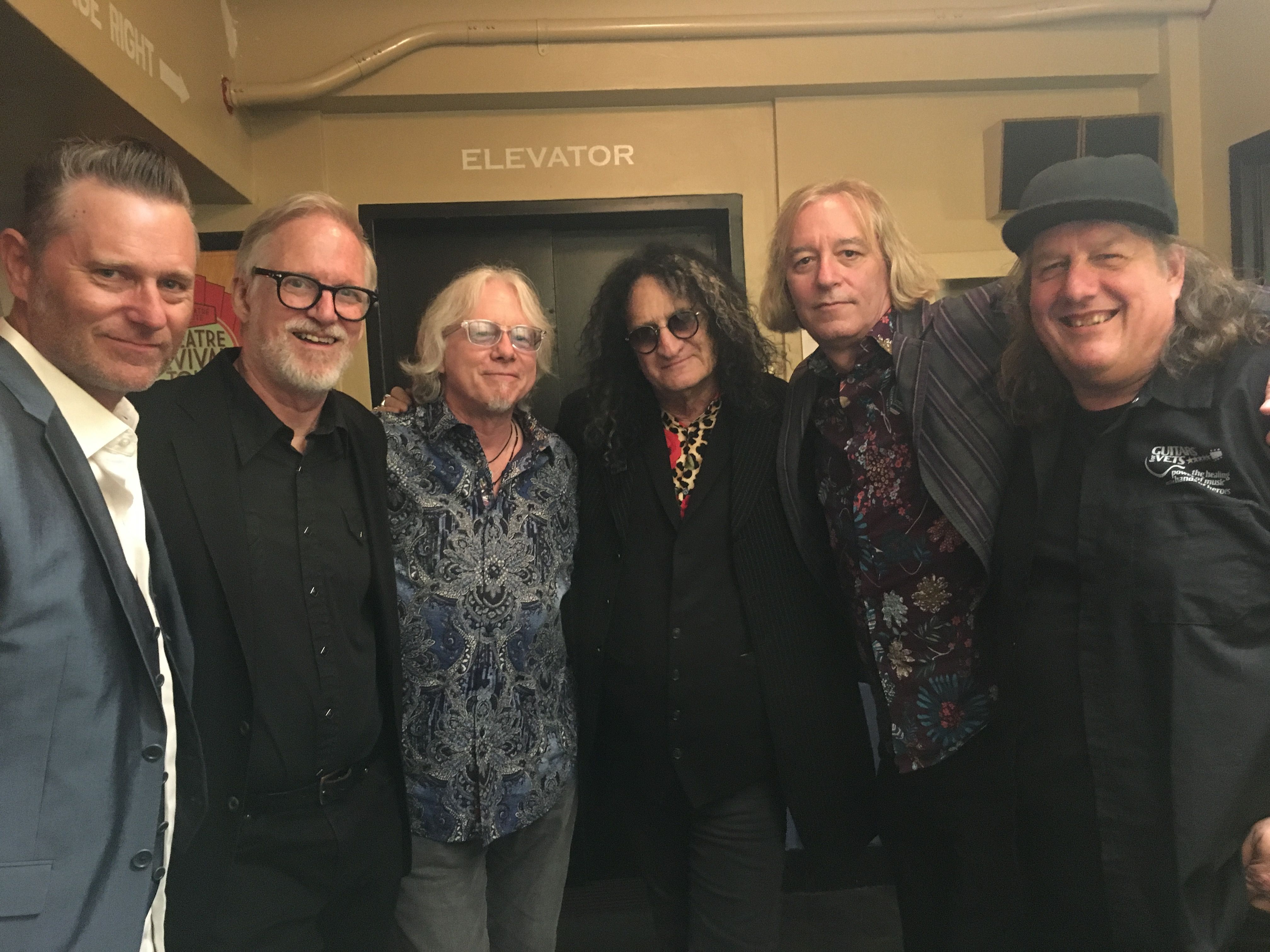 L-R: Tim Nielsen, me, Mike Mills, Rick Richards, Peter Buck, Kevn Kinney.
We were all supposed to join the Drive-By Truckers for the last song. Somebody kept asking, "So when does the last song come? How will we know?" The answer was always the same: "You'll know because it's the last song." 
Then the word came: "This is the last song." We trooped out on stage. People strapped on guitars. Vanessa borrowed a tambourine from the drummer. My gear was already packed up, so I clapped along to Neil Young's "Rockin' in the Free World."  Everyone joined in on the chorus. Halfway through, Jay, the Truckers' keyboard player, caught my eye and said, "You can play my B-3 if you want." Well, sure. "But you won't hear a note because the Leslie is way over there." He was right, but it was still fun. 
Hats off to Kevn Kinney for putting the whole extravaganza together and acting as MC, and to the staff and crew and especially R.E.M.'s head tech, DeWitt Burton, for putting in a long day and making sure everything ran smoothly. 
Everybody left saying, "We should do this again."
Photos: Top: Tom Branch. Middle: Kevn Kinney. Bottom: Kevn's granddaughter and, sorry, I don't know her name but she deserves many thanks.